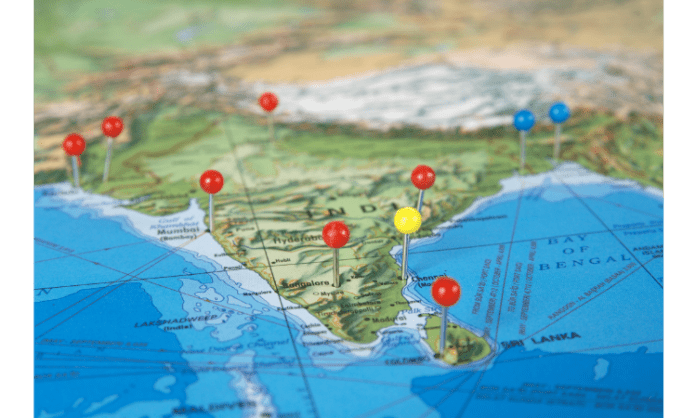 India is a country of many colors, languages, and religions. It is one of the largest countries in the world and has been shaped by many civilizations from around the globe. The country has over eight thousand years of history behind it and is home to some of the most sacred places like Varanasi to spectacular sites like Kashmir in the world.
It has a diverse landscape of mountains, deserts, forests, and beaches. Indian culture is also very unique and rich in traditions and history. It is a multi-faceted land of vast natural beauty and historical monuments. From the icy peaks of the Himalayas to the sun-soaked sands of Kanyakumari, India has attracted tourists from across the world and all walks of life since time immemorial. From carved cities in the mountains to laid-back beaches and spice islands, explore the multitude of exotic locales that India has to offer. From the beaches to a range of Himalayan mountains, from temples to palaces, from wildlife sanctuaries to heritage sites, India has everything that can make your trip memorable.
In this article, we will give you 10 must-see travel destinations in India that you should not miss out on while planning your next holiday trip there.
1. Taj Mahal, Agra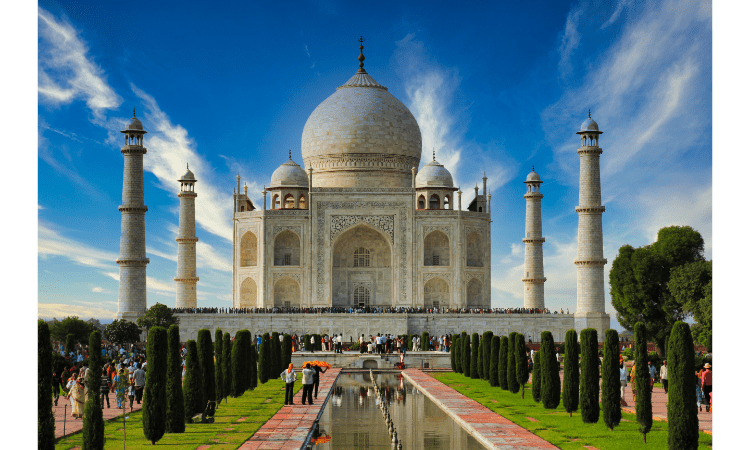 The Taj Mahal, a UNESCO World Heritage Site and one of the Seven Wonders of the World, was built by Mughal Emperor Shah Jahan to house the tomb of his wife Mumtaz Mahal.
The Taj Mahal is one of the world's most iconic buildings, and it has been featured on the back of India's 50-rupee note since 1987.
The Taj Mahal was built over a period of 22 years, starting in 1632. The principal architect was Ustad Ahmad Lahauri, who was also responsible for building the Red Fort at Delhi. He was assisted by a team of 20 other architects, painters, and calligraphers who worked under him and supervised work in different parts of the monument. The main building materials used were red sandstone and white marble from Makrana, Rajasthan; jasper from Punjab; jade from China; crystal from Tibet; agate from Sri Lanka; turquoise from Badakhshan; lapis lazuli from Golconda; malachite from Russia and carnelian from Kannauj (Karnatak).
The structure itself measures about 83 meters by 48 meters at its base and is about 28 meters high without any dome or minarets included.
2. Kashmir
Kashmir is a state in the northern part of India and is also known as the "Paradise on Earth". It has been ranked as one of the most beautiful places on earth. It is known for its beautiful landscape and historical places. The hills and rivers of Kashmir are famous for their scenic beauty. Kashmir lies at the heart of the Himalayas, and its beauty is almost beyond words. The lush valley is filled with mountains that reach into the sky and valleys that seem to be a million miles away from anything else. This is a place where nature seems to have been given free reign—and it shows in every step you take.
One can enjoy the natural beauty of this place with its snow-capped mountains, lakes, forests, waterfalls, and valleys. It is also famous for its apple orchards and gardens. Kashmir has many places to visit, including Gulmarg, Pahalgam, and Sonamarg.
The main attraction in Kashmir is Srinagar, which is one of the most beautiful cities in India. It has many lakes, gardens, temples, and mosques that make it a wonderful place to visit. The nightlife in Srinagar is very good as well; there are many restaurants serving Indian food, Chinese food, and other types of cuisines. There are also many hotels where you can stay while visiting this beautiful city.
3. Kerala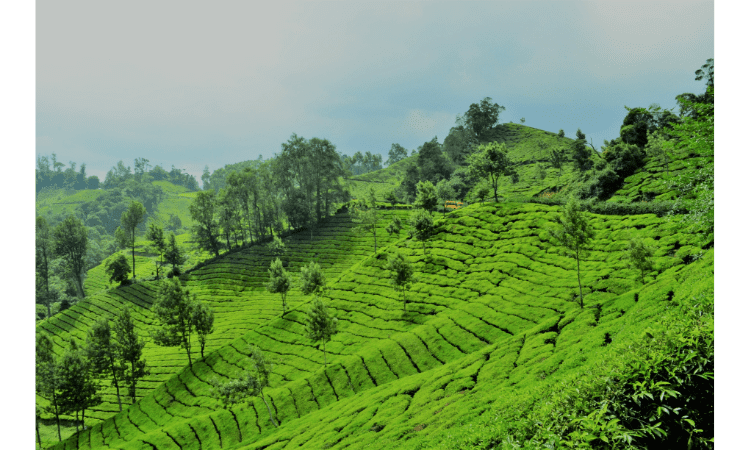 If you're looking for a vacation spot that's as beautiful as it is relaxing, look no further than Kerala. This Indian state has a lush green landscape and an abundance of natural resources and a magnificent backwater, making it the perfect choice for nature lovers.
Kerala is a state in southern India known for its beautiful beaches, lush green landscape, and colorful festivals. It is also home to some of the most amazing wildlife in the world—you can see elephants roaming around freely, dolphins swimming in the Arabian Sea, and even monkeys swinging through trees. The State is also known as God's Own Country.
It has been listed as one of the top 10 places to visit by Lonely Planet along with other destinations like New York City, London, and Amsterdam.
There are many places to visit in Kerala, including Munnar and Thekkady, which offer breathtaking views at every turn. You can also go hiking or take a stroll through one of the many parks that dot the landscape.
Kumarkom is another popular spot within Kerala, with its beautiful beaches and warm weather all year round. If you're looking for something more adventurous, you could try paragliding off one of the cliffs here or scuba diving in order to see some of the amazing marine life below your feet!
4. Rajasthan 
Rajasthan is the land of kings and queens, a place where royalty still reigns over its people. This is the perfect destination for people who want to experience a rich culture, colorful festivals, and the best sightseeing places in the world.
The architectural style of this state is very much different from other states. Rajasthan has five main regions: Marwar, Mewar, Shekhawati, Malwa and Bundi.
The Jaipur region is known as "Pink City" because of its pink color houses. The city was founded by Maharaja Jai Singh II in 1727 A.D.
There are also many popular tourist destinations within Rajasthan, including Mount Abu (famous for its temples), Udaipur (known for its lakes and palaces), Jodhpur (popular for its blue houses), Bikaner (for its desert school), Chittorgarh (known for its massive fort), Jaisalmer (desert), Pushkar (famous for its Brahma temple) and Ajmer (known as the burial place of Sufi saint Khwaja Moinuddin Chishti).
5. Goa
Goa is a tourist destination that has been attracting tourists since time immemorial. The beauty of Goa lies in its pristine beaches, lush greenery, and snow-white sand dunes.
The place is famous for its golden sandy beaches, which are not only clean but also safe for swimming. There are plenty of water sports like surfing, snorkeling, and windsurfing available at these beaches.
The city has some of the best hotels in India where you can enjoy your stay at affordable rates. The hotels are equipped with modern amenities to make your stay comfortable and memorable.
There are many places to visit in Goa such as Old Goa, Vasco Da Gama's House, Elephanta Caves, etc., which give you an insight into the rich historical past of this beautiful state. The state of Goa is also home to many attractions that attract tourists from all over the world. These include Old Goa, which was the capital city of Portugal's colonial empire in India; Palolem Beach; and Dudhsagar Falls.
Goa has a rich cultural heritage, with many different festivals and events taking place throughout the year. Some of these include Carnival (February), Ganesh Chaturthi (August), Diwali (October/November), and Panchgavya (January).
6. Uttarakhand
Uttarakhand is a state in the northern part of India. It was formed on November 9, 2000, by carving out the Himalayan districts of Uttar Pradesh. The name "Uttarakhand" means "northern region" and refers to the northern part of India as a whole.
Uttarakhand is known for its natural beauty, especially the Himalayas, which range from low foothills in the southernmost region to peaks over 8,000 meters. The state also has an abundance of wildlife, including tigers and elephants.
The state is also known as Devbhoomi or "Land of Gods" because it's home to many Hindu temples and pilgrimage sites. These include the famous Kedarnath Temple at the foot of the Himalayas and Badrinath Temple, which has been visited by millions of pilgrims since it was built over 2000 years ago.
The region has many potential tourist attractions, including Nainital and Mussourie.
Nainital is a small town in Uttarakhand that is surrounded by hills and lakes, making it a popular vacation spot for those who want to enjoy the outdoors. It's also known for being home to the Naina Devi temple and its holy lake, which are both frequented by pilgrims and tourists alike.
Mussourie is another popular vacation spot located in India. It's known for having some of the best views of the Himalayas in the country, as well as for its temples and monuments built during ancient times.
Uttarakhand offers many other attractions besides its temples, including adventure sports such as paragliding and skiing in Auli; horse riding tours in Ranikhet; rafting on Alaknanda River; and trekking through forested areas like Jim Corbett National Park or Nainital Lake District.
7. Ladakh
If you're looking for a place to go where you can escape the hustle and bustle of everyday life, then look no further than Ladakh. This region is located in northern India and is home to some of the most beautiful landscapes in the world. The mountains, valleys, and lakes make it the perfect place for hiking, mountain biking, and kayaking.
Ladakh has over 300 days of sunshine per year, so there's no shortage of opportunities to get outside and enjoy nature.
Ladakh is a beautiful place in India. It is famous for its snow-capped mountains, lakes, and rivers. The place can be visited during the summer season when it's warm enough to enjoy all that the region has to offer.
The main attractions of Ladakh are:
-Khardung La Pass (16,380 ft) – It is the highest point on the Leh-Manali highway and offers panoramic views of the surrounding landscape
-Pangong Tso Lake (1450 sq km) – One of the largest saltwater lakes in Asia and one of the least polluted lakes in India
-Tso Moriri Lake (1650 sq km) – A beautiful lake surrounded by mountains.
8. Gujarat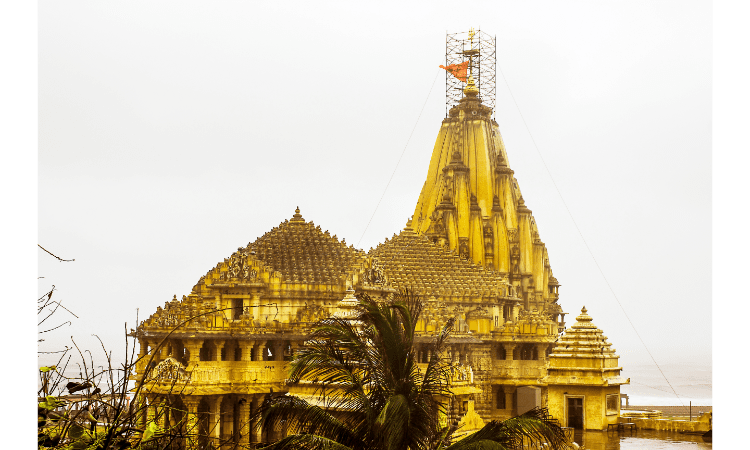 Gujarat is the most culturally diverse state in India. It has a long coastline and offers travelers a wide array of experiences. The state is divided into three major regions: Saurashtra (Western Gujarat), Kutch (southeastern Gujarat), and North Gujarat.
The state is famous for its vibrant culture, music, art, and architecture. The historical monuments include Dwarka Temple, Somnath Temple, Rani ki Vav (the Queen's Stepwell), Kankaria Lake, Laxmi Vilas Palace, and more.
Gujarat is also known for its spiritual destinations like Akshardham Temple in Gandhinagar or Swaminarayan Akshardham in Ahmedabad.
Gujarat is also known as "The Land Of Legends" because of its rich history and cultural heritage dating back many centuries ago. There are many tourist attractions that attract tourists from all over the world such as Gir National Park or Gir Lion Sanctuary in Junagadh district which houses Asiatic lions; Girnar Hill Station situated in Junagadh district which offers scenic views of the ocean; Dandi Beach which the site where Mahatma Gandhi launched his famous salt march against British rule; Somnath Temple located near Veraval town.
9. Sikkim
Sikkim, a tiny state in northeast India, is one of the most beautiful places on Earth.
The state's name translates to "the land of the gods" and it's easy to see why: Sikkim is one of the most stunningly beautiful places we've ever seen.
With a population of just over 700,000 people, Sikkim is a tiny state nestled between Nepal and Bhutan. The landscape is mountainous and lush—a perfect combination for both striking vistas and comfortable living.
Sikkim is a destination that promises you the best of both worlds. A landlocked region, it is surrounded by Nepal on one side and Bhutan on the other. With its location in the Himalayas, Sikkim has become a popular tourist destination for trekkers and nature lovers alike.
Sikkim has been known as the "Land of Monasteries" because it is home to many Buddhist monasteries that have been built over the years by monks who wanted to escape from worldly temptations. The most famous monastery in Sikkim is Rumtek Monastery, which was built in 1970 and houses a number of rare Tibetan Buddhist scriptures.
The state also offers plenty of opportunities for adventure seekers who want to explore its stunning landscapes, which include mountains like Kangchenjunga (at 8586 meters), Lachung Glacier (at 11 kilometers), Singalila Ridge (at 8 kilometers), and more.
10. Andaman
Andaman as a tourist destination is a unique experience. It is one of the most beautiful places in the world. Andaman and Nicobar Islands are located in the Bay of Bengal and are spread over roughly 250 islands. The history of this place dates back thousands of years ago when it was first inhabited by people from Africa.
The Andaman and Nicobar Islands are home to some of the oldest tropical rainforests in the world, as well as several rare species of animals. You can see orangutans, leopards, turtles, dolphins, whales, crocodiles, and more at these sanctuaries.
The islands are also known for their coral reefs, which have been damaged by overfishing and pollution in recent years but are still considered some of the most beautiful in Asia. These reefs contain hundreds of thousands of different species of fish as well as corals that create colorful patterns on their surfaces when sunlight hits them at certain angles during low tide periods each day (known as bioluminescence).
You can travel around these islands on boats or planes available from Port Blair (the capital city) or Havelock Island (a popular tourist destination).
Conclusion
As you have read, there are many different reasons to visit India. The country's history and culture make it a world-class tourist place for those seeking an authentic experience. There are many more places in India to explore like the interesting nightlife of Mumbai, the incredibly beautiful Golden Temple at Amritsar, and the ghats at Varanasi, the list is endless!  The diverse landscape offers something for everyone, whether you're looking for the hustle and bustle of a big city or a relaxing vacation in the mountains.
If you're planning on visiting India soon, be sure to check out these places must.
This Article is written by independent researcher Ms. Piu Sarkar, you can reach her at piusarkar@aajkaakhbaar.com