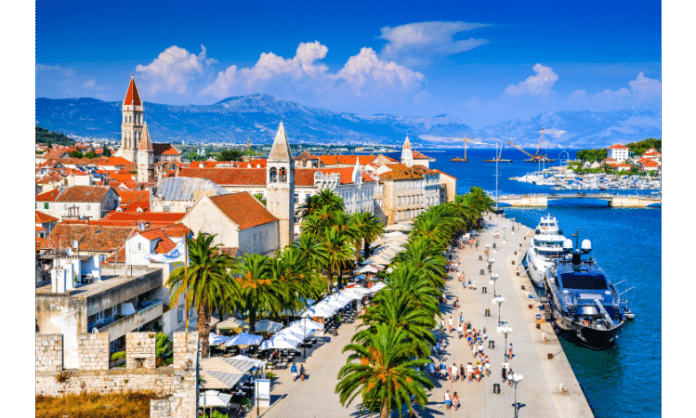 Croatia is one of the most beautiful countries in Europe. It has many natural tourist attractions as well as cultural and historic places of interest. Tourists from all over the world love to come here. The country has a stunning coastline on the Adriatic Sea which attracts thousands of tourists each year. Sailing is a popular activity here, with many ports offering boats for rent to explore the island-filled sea or see nearby islands like Hvar, Vis, and Korcula. Here is the list of the best places to visit in Croatia.
The west coast is also home to some of the country's top destinations like Dubrovnik, Split, and Trogir which are known as the Pearl Coast due to their gorgeous architecture and ancient buildings such as churches, synagogues, and mosques built centuries ago by medieval traders who also brought cultures together here creating unique interiors that still exist today.
Where is Croatia?
Croatia is a country located in southeastern Europe. Its Adriatic Sea coast is home to 1,246 islands and islets, making it the largest archipelago along the Mediterranean. Its capital city is Zagreb, with another major city being Split on the Dalmatian Coastline.
It has been inhabited for at least 15,000 years and has its own distinct culture with its own language (Croatian).
Plitvice Lakes National Park
The Plitvice Lakes National Park is a national park in Croatia. It is the oldest national park in Southeast Europe and was inscribed on the UNESCO World Heritage List in 1979. The central part of the national park (around half of its area) has been protected since 1949, with additional sections protected in 1959 and 1981.
The 16 lakes of different colors are divided by natural dams called travertine barriers that form waterfalls between them, as well as by man-made barriers erected to control water levels and flow rates through hydroelectric power stations within Plitvice Lakes National Park. Most lakes have clear water with high transparency due to the lack of sedimentation caused by permanent influxes from springs fed directly from underground sources at depth beneath the lake beds themselves; these features have made them some of Europe's cleanest lakes.
Dubrovnik
Dubrovnik is the capital city of Dubrovnik-Neretva County in southern Croatia. Its economy largely depends on tourism, attracted by the medieval city walls, interspersed with forts and towers (the old town of Dubrovnik itself is listed as a UNESCO World Heritage Site).
The city was a major center for the Croatian War of Independence and after that, it became famous for its free port status.
You can see this beautiful place from many international airports like Zagreb or Split, both are around two hours drive from Dubrovnik.
Rovinj
Rovinj is a beautiful fishing village located on the Adriatic coast of the country. The town has become known for its Venetian architecture, beautiful beaches, and amazing seafood. In fact, Rovinj is also known as the 'Pearl of the Adriatic'.
You can take a boat ride through Rovinj's old town to get an idea of what life was like before tourism took over.
There are numerous festivals held throughout the year in Rovinj including music festivals, art exhibitions, and theater performances.
Korcula Island
Korcula Island is one of the most famous places to visit in Croatia. It's home to the Blue Cave, which is a popular tourist destination. The island is also known for its many beautiful nature spots and beaches. If you're into history, Korcula has many historic sites and buildings that you can explore.
Zagreb
Zagreb is the capital and the largest city in the country. It is located in the northwest of the country, along the Sava river. It is a major cultural, academic, economic, and political centre in the country.
In addition to its importance as a key city in the Croatian history, Zagreb has been also described as "the new emerging hotspot" by various media outlets due to its growing economy and flourishing tourism industry.
Split
Split, also known as Spalato, is a city in the country. It is the second-largest city in the country, with a population of 182,725 in 2011. It is also the country's largest Dalmatian city and the center of Dalmatia.
The split was founded by Roman Emperor Diocletian at about 295 AD as "Salona," named after his birthplace in modern Dalmatia (the Latin word for Split). Its strategic location and port made it ideal for extensive trade with Venice and other cities on the Adriatic Sea.
Zadar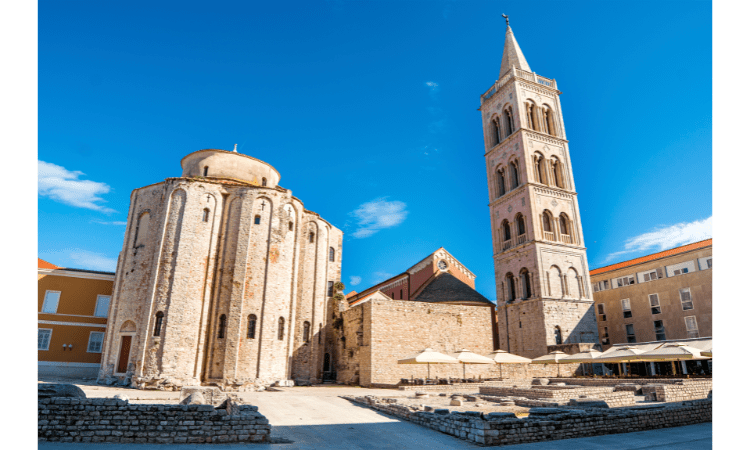 Zadar is a city in the northern Dalmatia region of Croatia. It is situated at the southern end of Zadar Bay, right where the river Zrmanja flows into the Adriatic Sea.
When you visit Zadar, it's hard not to notice how charmingly preserved this city is. There are many historic sights around town that show off its history and culture as well as its natural beauty.
Pula
Pula is a city in Istria, Croatia, on the coast of the Adriatic Sea. It's one of the oldest cities in the region and has been inhabited since the Neolithic age. The city was discovered by Greek colonists from Corinth at around the 5th century BC. They called it Polai or Pola; over time its name evolved into Pulia or today's Pula.
In spite of its small size (3rd smallest), Pula hosts many visitors attractions: Arena (the only preserved Roman amphitheater from antiquity), Museum of Antiquities and Paleontology as well as Roman Arena, Amphitheatre, and Sculpture Garden are the main ones.
Hvar Island
Hvar is one of the most popular destinations in Croatia and it's not hard to see why. With its beautiful white-sand beaches, crystal clear waters, and stunning architecture that blends Mediterranean-style buildings with island life – there are plenty of reasons why this island should be on your bucket list. You'll find many restaurants serving fresh seafood caught by local fishermen along with locally grown produce (mushrooms and fruits).
Hvar is also where many celebrities come to vacation including Beyonce, Brad Pitt, Cameron Diaz, and more.
Krka National Park
Krka National Park is a national park in southern Croatia, located in the Šibenik-Knin County, in the Dalmatian hinterland. It is named after the Krka River.
The national park covers an area of 40.5 square kilometers (15 sq mi), and it was established on 28 October 1963. It has a buffer zone of 224 square kilometers (87 sq mi). The park's core zone contains most of its cultural heritage, including eight churches and monasteries from various periods; some are UNESCO World Heritage Sites.
Conclusion
With such a variety of sites to visit in the country, it's hard not to be tempted. From the bustling cities of Zagreb and Dubrovnik to the beautiful countryside dotted with islands in between, there are so many different things to do here that you could spend an entire lifetime exploring them all! It's also worth noting that Croatia is one of the best sites for nature lovers: there are countless hiking trails for you to explore around this country as well as some great beaches too if swimming is more your thing.
Also Read: TOP 10 MUST SEE TRAVEL DESTINATIONS IN INDIA