The fast food industry is a big business. It's estimated that more than 100 billion dollars are spent each year on fast food in the United States alone. But while you can't deny the convenience of getting a quick bite to eat at a drive-through window, there's no denying that it isn't always the best choice for your health.
That's why we've put together this list of 10 healthy fast food options. You don't have to give up your favorite greasy treats when you're on the go—you just need to know where to find the best food!
McDonald's Southwest Grilled Chicken Salad.
Nutrition: 370 calories, 8 g fat (1 g saturated fat), 600 mg sodium, 43 g carbs (7 g fiber, 6 g sugar), 38 g protein
The grilled chicken is the main attraction here, but there's also a hefty amount of corn and black beans. The honey-lime dressing provides a dose of healthy fats and nutrients.
When it comes to the healthiest breakfast fast food options, this hearty meal is one of the best bangs for your buck.
Wendy's Mandarin Chicken Salad.
Calories: 480 Fat: 24g Carbs: 49g Protein: 38g
Wendy's Mandarin Chicken Salad is one of the healthiest fast food options on the menu. This salad features grilled chicken breast with mandarin oranges, crispy noodles, and almonds in a honey-lime dressing. You can also add tofu or grilled salmon to make it more filling. The best part about this salad is that it's not as spicy as most Asian-inspired salads, so it's a great option for those who don't like their fast food too spicy.
Chipotle Burrito Bowl.
Chipotle Burrito Bowl Calories: 470 Carbs: 53g Fat: 14g Protein: 23g
At Chipotle, you can build your own bowl. Choose brown rice, black beans, chicken or steak, and salsa. Skip the cheese and sour cream and you'll cut down your calorie count by over 200 calories. This makes for a healthy food option that's still big enough to fill you up.
Burger King Veggie Burger.
The Burger King Veggie Burger is not only healthy, but it's also one of the most delicious fast food options out there. It's made with two patties made from a black-bean base and topped with lettuce, tomato, pickles, and creamy mayo on a sesame seed bun.
The veggie burger food has 330 calories, 10 grams of fat, and 9 grams of protein. Some people might think that's high for a fast food meal, but it's actually pretty good for a burger joint. And as far as taste goes: It tastes like a regular burger — not like beans at all!
It's also low in sodium (480 milligrams) compared to other fast food options; some burgers have more than 1,000 milligrams per serving. The veggie burger is also gluten-free and vegan-friendly (though they don't advertise it as such).
Subway Tuna Sub on 9-Grain Wheat.
Calories: 470 Fat: 11g (4g sat) Carbs: 71g Protein: 19g
Subway's tuna sub is one of the healthiest fast food options you can order. This food has fewer calories and fat than a McDonald's Big Mac, but still packs more protein than any other sandwich on this list. The 9-grain wheat bread is also a good choice, as it contains more fiber than white bread like Wonder Bread.
If you want to make it even healthier, swap out the mayo for mustard and get rid of the cheese and lettuce (they add extra saturated fat). Also, try getting an extra portion of tuna instead of a side salad (which isn't very healthy anyway).
Chipotle Salad with Carnitas & Fajita Vegetables.
Calories: 443 Protein: 30 grams Carbs: 25 grams Fiber: 4 grams
Sodium: 1,024 mg Sugar: 7 grams
If you're looking for a healthy lunch option at Chipotle, this salad is it. You get plenty of protein and fiber from the carnitas and fajita vegetables, and a decent amount of carbohydrates from the beans, tortilla strips, and rice. The salad also has a good amount of calcium thanks to the cheese. You'll want to skip the chips — they're loaded with sodium — but if you really want them, order them on the side so you don't go overboard on calories and carbs.
Carl's Jr Low Carb Thickburger.
Calories: 480 Sodium: 1,170 mg Carbs: 4 g Protein: 45 g
If you're looking for a low-carb, healthier fast food option, Carl's Jr. has you covered with their new Low Carb Thickburger. It's a giant burger topped with guacamole, pepper jack cheese, and bacon — but it has less than half the calories and carbs of Carl's standard cheeseburger! The burger is also made from 100% beef and contains no artificial colors, flavors, or preservatives.
Starbucks Skinny Latte.
Calories: 140, Fat: 0g, Carbohydrates: 30g, Protein: 3g
Not only is this Starbucks drink low in calories and fat, but it's also packed with protein. It also contains no sugar or artificial sweeteners. If you want to make this Starbucks drink even healthier, order it without whipped cream — just ask for an extra shot of espresso instead!
Chick-fil-A Chargrilled & Fruit Salad.
300 calories, 10 g fat (3 g saturated), 890 mg sodium, 29 g total carbs (2 g fiber, 16 g sugar), 29 g protein
The salad is one of the better options at Chick-fil-A. It's packed with lean protein and veggies, but you'll want to skip the dressing, which has nearly half your daily recommended sodium intake in just one tablespoon. You can also get creative and add your own ingredients, such as grilled chicken or nuts.
Taco Bell Fresco Style Chicken Soft Taco.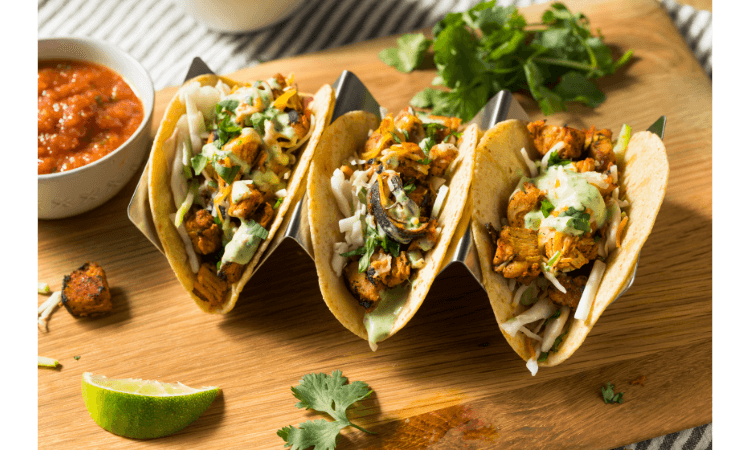 Taco Bell has a new line of "fresco style" meals that are low in calories and fat. A Fresco Style Chicken Soft Taco has only 186 calories and 3 grams of fat, plus its chock full of lean protein. And though the name is a bit misleading (it's not the same as a regular soft taco), it's still a solid choice for those trying to cut back on their fast food intake.
Wrapping Up
If you are trying to eat healthier or just want a break from the routine of cooking at home, fast food is an option. Everyone knows that the typical fast food meal is not exactly healthy, but people still go to fast food restaurants because they are quick and cheap. If you want to take a break, consider one of these options when you need a change of pace.
Go to one of these fast food places when you want something healthy!
Also Read: Foods that worsen dark spots