In the realm of cardio fitness, two machines reign supreme – the Treadmill and the Elliptical. Both offer an excellent avenue for heart-pounding workouts and can help you achieve your fitness goals. Treadmill or Elliptical? Choosing the Right Cardio Machine for You – is a good question. However, the key difference between treadmills and Elliptical machines often sparks a debate among fitness enthusiasts. This comprehensive guide aims to provide insights into their unique characteristics, and benefits, and how to select the one that best suits your needs.
Treadmills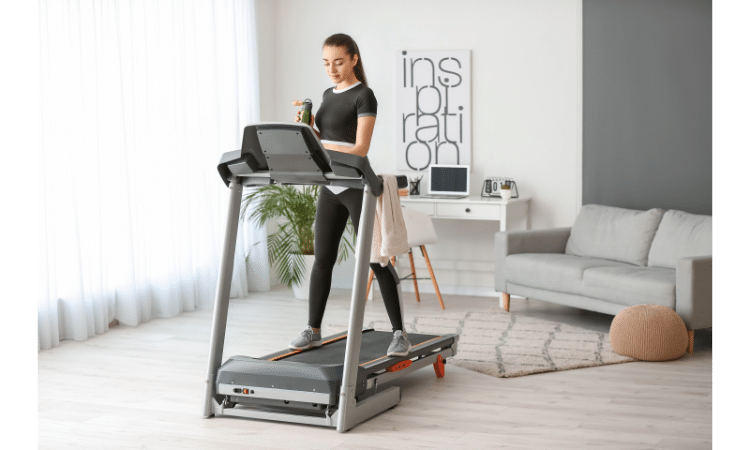 A treadmill is a piece of exercise equipment used for walking, running, or jogging in place. It consists of a moving platform or belt that rotates around a set of rollers while the user walks or runs on it. The speed of the belt can be adjusted to suit the user's pace, and some treadmills also offer incline settings to simulate walking or running uphill.
Treadmills are commonly found in gyms, fitness centers, and homes, and they provide a convenient and controlled environment for cardiovascular workouts. They offer various features such as heart rate monitoring, pre-programmed workout routines, and adjustable settings for speed and incline.
Treadmills are popular because they allow users to engage in walking or running exercises regardless of weather conditions or time constraints. They offer a predictable and consistent surface for exercising, making it easier to track progress and maintain a desired pace. Treadmills are also commonly used for fitness testing, rehabilitation, and weight loss programs.
Ellipticals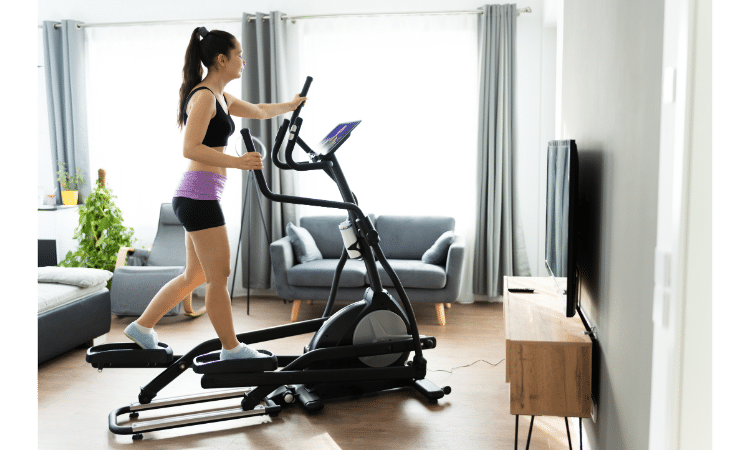 The term "ellipticals" typically refers to elliptical machines, a common type of fitness equipment found in many gyms and homes. These machines provide a low-impact cardiovascular workout that can vary from light to high intensity based on the speed and resistance preference set by the user.
An elliptical machine is designed to simulate activities such as walking, running, or stair climbing, without causing excessive pressure on the joints, thereby reducing the risk of impact injuries. This is why they are particularly suitable for people with joint problems or injuries.
An elliptical machine typically has two long handles and foot pedals. The user pushes and pulls on the handles while moving their feet on the pedals in a smooth, circular or elliptical motion. Some models also include an option to modify the incline, providing an additional challenge and allowing you to target different muscle groups.
In addition to providing a good cardio workout, using an elliptical machine can also help improve balance and mobility and can provide a full body workout, especially those models with moving handles which allow you to work both your upper and lower body at the same time.
Treadmill Vs. Elliptical: The Key Differences
The Treadmill, an enduring fixture in most gyms, simulates the natural motion of running or walking. On the other hand, the Elliptical trainer provides a low-impact, full-body workout that mimics a cross between stair climbing and cross-country skiing.
Here's a deeper look into their unique features:
Calorie Burn
While both machines offer an excellent cardio workout, the Treadmill has a high-calorie burning potential. Studies suggest that running on a treadmill burns more calories than an elliptical session. This edge, however, may differ depending on your workout intensity.
Impact on Joints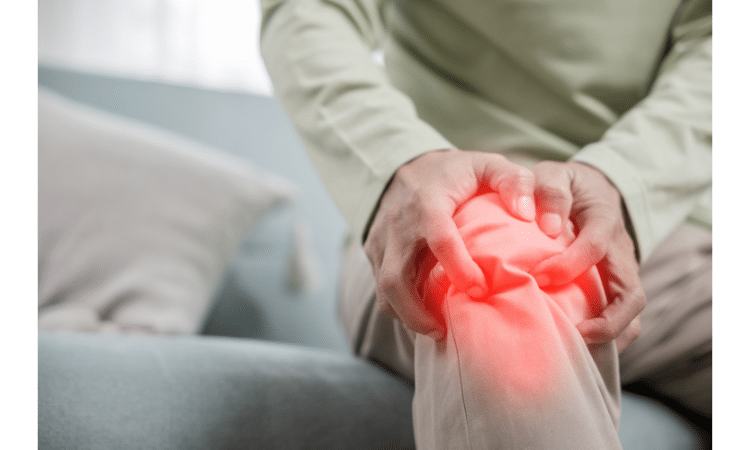 When it comes to the impact on joints, the Elliptical takes the lead as a low-impact cardio exercise. Its smooth, circular motion is gentler on your joints, making it a preferred choice for individuals with knee or joint problems.
Muscle Activation and Workout Intensity
With the Treadmill, you get a realistic running experience which leads to high muscle activation, especially in the lower body and core. In contrast, the Elliptical offers a full-body workout, engaging both the upper and lower body muscles.
Advantages of Treadmills
The enduring popularity of the Treadmill can be attributed to several unique advantages:
High-Calorie Burning Potential: Due to the intense, weight-bearing nature of the workout, running on a treadmill can burn significant calories.
Realistic Running Experience: Treadmills provide a true running or walking experience, which is excellent for training for outdoor running events.
Strengthens the Bones: The weight-bearing nature of running can improve bone density, warding off conditions like osteoporosis.
Improves Heart Health: Regular treadmill workouts enhance cardiovascular fitness, reducing heart disease risks.
Workout Customization: Modern treadmills come with customizable workout options, such as incline/decline settings and pre-programmed routines, offering a variety of challenging workouts.
Disadvantages of Treadmills
High impact: Running on a treadmill can be hard on your joints, especially if you're prone to knee, hip, or ankle issues.
Learning curve: It might take some time to get comfortable with the controls, speed changes, and the moving belt.
Advantages of Ellipticals
The Elliptical machine also comes with its own set of benefits:
Low-Impact Cardio Exercise: Ellipticals provide a workout that's easy on the joints, suitable for people with joint conditions or those recovering from an injury.
Full Body Workout: With moving handlebars, an elliptical can target your upper body muscles in addition to the lower body, providing a well-rounded workout.
Customizable Workout Options: Similar to treadmills, modern ellipticals offer adjustable resistance levels and pre-set workout programs, making your routine as easy or as challenging as you'd like.
Disadvantages of Ellipticals
Less calorie burn: The elliptical tends to burn fewer calories than a treadmill, given the same intensity and duration.
Less natural movement: Some people find the movement on an elliptical to be less natural or comfortable than walking or running.
How to Choose the Right Cardio Machine for You?
When it comes to choosing between the Treadmill and Elliptical, consider the following factors:
Personal Preferences: Ultimately, the best cardio machine is the one you'll use regularly. If you enjoy running, a treadmill may be your best bet. If you prefer a low-impact workout with dual action (upper and lower body), an elliptical could be a better fit.
Fitness Goals: Are you aiming for a high-calorie burn or want to train for a marathon? Then a treadmill might be your best bet. But if you're looking for a full-body workout that's gentle on the joints, then an elliptical might be the perfect machine.
Health Conditions and Injuries: If you have any pre-existing joint conditions, an elliptical might be more suitable due to its lower-impact nature.
Remember, consistency is key in any workout routine, so choose the machine you enjoy the most.
Expert Opinions and Research
Experts typically suggest that the choice between a treadmill and an elliptical should be based on your fitness goals and any health considerations. According to research, treadmills are ideal for improving cardiovascular fitness and losing weight, while ellipticals are excellent for those seeking a low-impact workout that's easy on the joints.
However, it's always beneficial to consult with fitness professionals or a medical expert before beginning any new workout regimen. They can help assess your fitness level, consider any health conditions, and recommend the most suitable cardio machine for you.
Conclusion
Whether you choose a Treadmill or an Elliptical, both machines offer effective cardio workouts to enhance your overall fitness. The key is to select the one that aligns with your personal preferences, fitness goals, and health conditions. No matter what you choose, remember that consistency is the key to achieving lasting fitness results. Don't forget to seek expert opinions and research to guide your decision-making process.
The choice between a treadmill and an elliptical is ultimately a personal one. Just remember, the most important step is not which machine you choose, but the decision to embark on a healthier lifestyle. Embrace the journey, and you'll reap the rewards, one stride at a time.