The Internet is a place for people of all ages. It gives them an opportunity to learn new things and develop their skills. There are many websites where you can play word games online, but what we're going to talk about today is the Quordle game. Quordle asks you to guess four five-letter words in succession! This is a most engaging and daily viral game around since October 2021 and everyday has millions visit at the official gaming website! Lets find out what is quordle and how to play quordle online.
What is Quordle game? How to play Quordle?
Quordle is an internet-based new word guess game. This game is a more difficult version of Wordle.
The game starts with four sections that each have nine rows of five blank boxes. You need to guess a five-letter word for all four sections. There will be an onscreen keyboard at the bottom of all four sections. In this game, you have nine chances to guess a five-letter word. In nine attempts you need to solve the four words simultaneously. Once you've guessed a correct word, some of the letters may be highlighted yellow or green in each section. Green means not only you've chosen the right word but placed the letter in the exact spot it should be. While Yellow color indicates that the letter you have chosen is a part of the exact answer, but unfortunately you placed it in the wrong spot.
However, If a letter's box do not change colors, it is not a part of the word at all. You need to solve all four words before you run out of all nine attempts.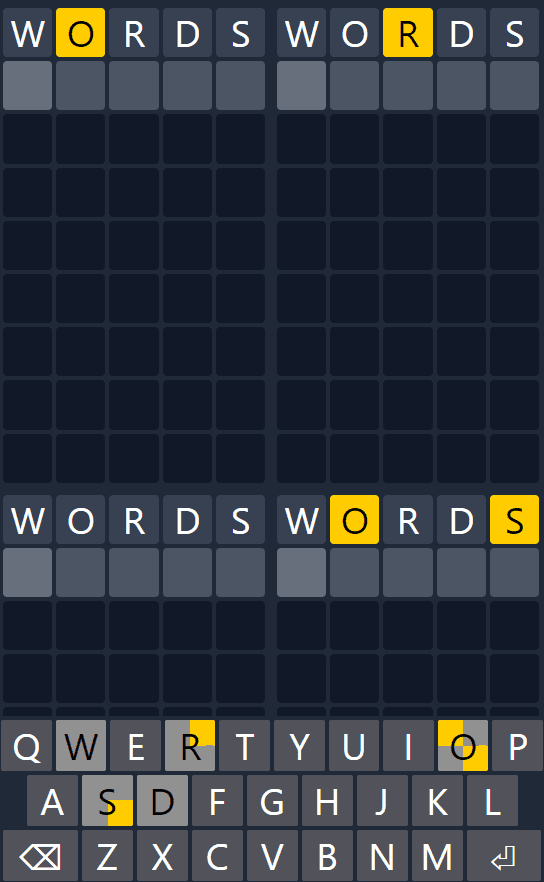 Once you exhausted all nine attempts, you will get the answers of all four words displayed below the onscreen keyboard immediately after the game.
How many times you can play in a day?
You can play once in a day. Quordle will refresh with new puzzle everyday. However, to improve your performance of the game, you can  play practice game available at the website. The official website to play the game is www.quordle.com
Benefits of Playing Quordle game
There are many benefits to playing this game.
Boosts your memory – The act of remembering words helps to strengthen the pathways in your mind that are responsible for retrieving information.
Improves reading skills – As you play, you will learn how to read faster and more accurately by learning to recognize patterns in words.
Increases vocabulary – Playing word games allows you to learn new words and expand your knowledge of language, which can help you become a better writer.
Quordle game is fun and engaging way to stimulate your mind and improve your vocabulary, which can lead to greater self-confidence and a deeper understanding of the world around you.
Playing this game can also help you learn more about yourself, as they challenge you to explore concepts that may be unfamiliar or uncomfortable for you.
They're also a great way to stay active and get some exercise in your day!
Conclusion
Quordle is a great place for people who love puzzles, games and riddles. We know you'll love it as much as we do!
Also Read:- 10 Sports Game for kids