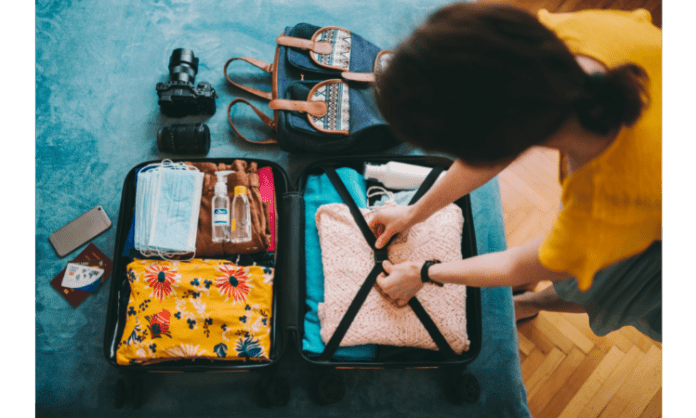 The best way to keep your clothes wrinkle-free in your suitcase is to pack them properly, but there are other things you can do as well.
The first thing you need to do is make sure that your clothes are clean and washed properly before you pack them. This will ensure that they don't get dirty or wrinkled while you're traveling, which will keep them looking new and fresh for longer.
Once your clothes are clean and ready to go, it's time to start packing. The most important thing about packing clothing for travel is making sure that everything has its own place in the suitcase. If you don't have enough room for everything, then things will get wrinkled and dirty very quickly. When you're packing for a trip, it's easy to forget about the little things. The wrinkles that form in your clothes every time you roll them up and cram them into your suitcase can be pretty annoying—especially when you've got a business meeting or family reunion coming up and you want to look presentable.
Luckily, there are some easy ways to keep your clothes wrinkle-free in your suitcase. This article will walk you through some simple steps for keeping your clothes looking good even after they've been packed away for a few days.
Easy ways to keep clothes wrinkle-free in a suitcase
Rolling method
If you're trying to keep your clothes wrinkle-free in your suitcase, there are a few different ways to do it.
The first is by rolling the garment. This method works well for shirts, pants, and skirts. Simply fold each piece of dress in half lengthwise and then roll it up from there. This helps keep wrinkles at bay and makes it easier for you to pack more clothes into your suitcase.
Another method is by folding each piece of dress in half lengthwise and then rolling it up from there. This can work well for shirts or pants that have pockets on either side of them so that they don't get crushed while they're being packed away.
Adding tissue paper
Add tissue paper to your clothes to keep them wrinkle-free. If you want to ensure that your clothes stay wrinkle-free in your suitcase, try adding tissue paper. Tissue paper is often used in dry cleaning bags, and it can help prevent wrinkling while still protecting the shape of dress.
Tissue paper is also useful for maintaining a neat appearance when traveling. It's easier to fold clothes with tissue paper inside them than without—and it helps prevent wrinkles from setting in by absorbing moisture and preventing the fabric from clinging together. This will help ensure that nothing gets damaged during transit, which can be especially important if you're going on an international trip where there may be customs requirements regarding what can be brought in and out of the country.
Bundle wrapping
To keep your clothes wrinkle-free in your suitcase, try bundling and wrapping them. This method is particularly effective for large items like sweaters and jackets, which have a tendency to crease if you're not careful.
To bundle wrap a sweater or jacket, lay it flat on a bed or other flat surface. Take one end of the item and fold it into the middle of the garment so that when you pull on the opposite end of the sweater or jacket, both ends will bunch up together. Fold this second end over the first one and repeat until you reach the bottom of your garment.
Once you've reached this point, use packing tape to secure all four corners around each other. Then fold it over two more times to create a long tube with an even number of folds. You can then place this tube inside another bag to hold it in place during travel.
Pack wrinkle-resistant garment
If you want to keep your clothes wrinkle-free in your suitcase, pack a garment that's made of wrinkle-resistant fabric.
This is particularly important if you're traveling somewhere warm and humid, or if you're going on a long trip and need to pack more than one outfit. Wrinkle-resistant fabrics are designed to resist the formation of wrinkles so that even if you don't have access to an iron or steamer, you can avoid having your clothes look like crumpled paper balls by the time you arrive at your destination. Wrinkle-resistant clothing has been treated with a special kind of fabric softener that helps prevent wrinkles from developing in the first place. If you're packing something that's important—like your favorite suit or dress—consider bringing along one or two pieces of wrinkle-resistant clothing so they'll be protected from wrinkles while traveling.
Use garment bags
If you're a frequent traveler, you know how crucial it is to pack your clothes wrinkle-free. But sometimes, even with careful packing, wrinkles are unavoidable.
To keep wrinkles at bay and protect your garments from damage, we recommend using a garment bag in your suitcase. A garment bag is simply a large bag that allows you to pack an entire outfit without folding or rolling the clothing. The bag usually comes with two zippers: one on top of the bag and one on the bottom. Using garment bags is one of the best ways to keep your clothes wrinkle-free while traveling because they protect each individual piece of clothing from getting crushed in the bottom of your bag and becoming wrinkled.
Use plastic wraps
To keep your clothes wrinkle-free in your suitcase, you can use plastic wrap. These are great because they help to keep the wrinkles out of your clothes. The best way to use these is by putting them on when you put your clothes into the suitcase. This will help to keep them looking good for longer than if you were just packing them normally.
You can also use plastic bags to protect your clothes from getting wet or dirty from other items inside your suitcase. This is especially helpful if there are liquids inside of your bag that could spill onto other items inside of it, such as toiletries or books.
One of the best ways to keep clothes wrinkle-free in your suitcase is with plastic wraps. Simply wrap your clothes up tightly in plastic before putting them in your bag, and they'll be ready to wear when you arrive at your destination.
Overlapping
Overlapping is an easy way to keep clothes wrinkle-free and organized in your suitcase. You can overlap the sleeves of one shirt onto another, or even fold one shirt onto another if you're taking a lot of shirts with you. This prevents wrinkles from forming when your clothes are packed into the suitcase and also makes it easier to find the shirt you want when you need it. To overlap, lay out your clothes on top of each other and then fold them into thirds like an envelope. Then, put them into your suitcase in order of how they'll be worn (so things like socks, underwear, and t-shirts go on the bottom). This will help ensure that all of your items are packed neatly together so there are no wrinkles when you take them out.
Also Read: The Dangers of Sleeping in tight clothing: Clothes you should never sleep in
Use wrinkle-release spray
One of the best ways to keep your clothes wrinkle-free in your suitcase is to use a wrinkle-release spray. This spray can be found at most department stores and is specifically made for keeping clothes wrinkle-free when they're packed away. It's a great alternative to ironing since it doesn't require you to hang the garment up or place it on an ironing board. The spray will create a barrier between the garment and the surface of your suitcase, so no matter how much you pack or how many times you move from one location to another, the fabric won't bunch up or get wrinkled.
Use packing cube
Packing cubes are a great way to keep your clothes wrinkle-free. They are usually made of mesh, which allows them to breathe while keeping the clothes inside from getting tangled up. They also have different sizes, so you can choose the one that best fits your needs and clothes. Use a packing cube for each piece of clothing, and you will prevent them from wrinkling when they're packed up in your suitcase. If you're traveling with multiple suitcases, try using one cube per piece of luggage instead of one big cube for everything—that way you can make sure each piece gets its own place in each suitcase without worrying about anything getting jostled around too much during transit.
Conclusion
You have worked hard to get your clothes wrinkle-free, but once you pack them in your suitcase for travel, all of that work can go out the window. It's time to learn how to keep those wrinkles from ruining your look when you get to your destination.
We hope these tips will help you start a smart packing routine that keeps your clothes looking great when you need them most.