Flowers have a special way of bringing joy, enhancing moods, and adding beauty to our spaces. Unfortunately, their lifespan is often all too short. This article provides a comprehensive comment on How to Keep Flowers Fresh for a Long Time to make your blooms last. Let's embark on this journey of preserving the life and vibrancy of your precious flowers.
Cut Flowers: Keeping Them Fresh and Vibrant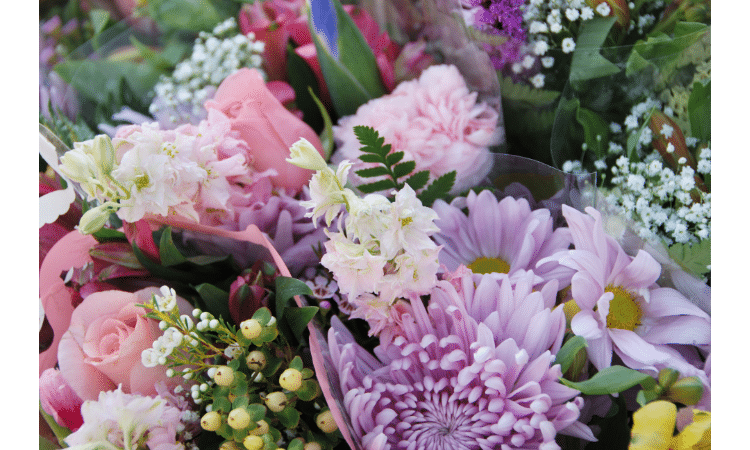 One of the most common ways people enjoy flowers is by displaying fresh cut flowers in a vase. While cut flowers are destined to eventually wither, there are steps you can take to help them retain their freshness for an extended period.
Cut at the Right Time
It's advisable to cut flowers during the cooler parts of the day, early morning or late evening. During these times, flowers have the highest water content, which helps them stay fresh longer.
Use Sharp Tools
Use sharp scissors or garden shears to cut your flowers. This ensures a clean cut, preventing damage to the stems and making it easier for them to absorb water.
Cut at an Angle
When cutting flower stems, aim for a 45-degree angle. This increases the surface area from which the flower can absorb water.
Hydrate Immediately
Place the freshly cut stems immediately into a bucket of warm water. Warm water is absorbed more readily than cold, which helps to keep your flowers hydrated.
How to Keep Fresh Flowers Long
Beyond the cutting process, the care you provide for your flowers once they're in the vase can make a considerable difference in how long they stay fresh. Here's how to keep fresh flowers long.
Start with Fresh Flowers
To start with fresh flowers, ensure that you purchase them from a reputable florist who stocks freshly cut flowers. Inspect the flowers before buying — look for firm and vibrant petals, and steer clear of those with browning edges or wilting leaves.
 Prepare the Vase
Before you place your flowers in a vase, ensure that it's immaculately clean. Bacteria and fungi thrive in dirty vases and will shorten the life of your blooms. Rinse the vase with a mixture of warm water and bleach, scrub the insides thoroughly, and let it dry before use. If possible, use a vase made of glass or crystal as these materials are non-porous and less likely to harbor bacteria.
Trim the Stems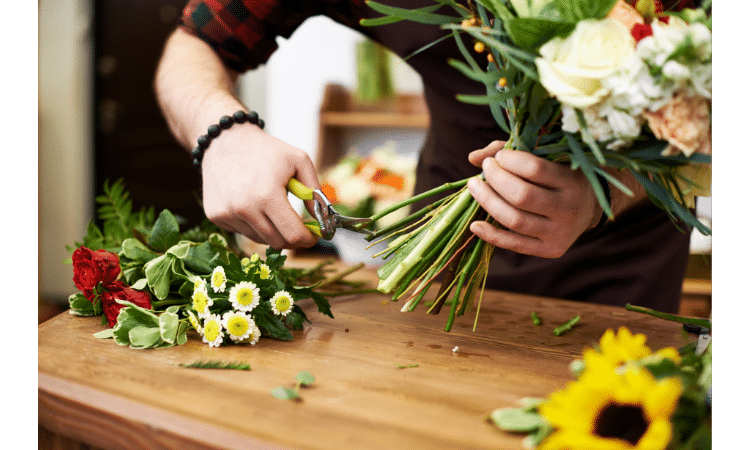 The third step is to trim the stems. Use sharp scissors or a knife to make a clean cut at an angle about one to two inches from the bottom. This cut increases the surface area for water absorption and helps to keep the flowers fresh. Do this under running water or in a basin of water to prevent air from entering the stem, which can block the flow of water.
 Water and Food
Fill the vase with lukewarm water. Cold water is harder for flowers to absorb, and hot water can be stressful.
It's also crucial to provide the flowers with adequate food. Commercially available flower food contains sugars, acids, and bleach. The sugars provide energy, the acid maintains the pH at a level that helps the flowers absorb water and nutrients, and the bleach controls bacteria.
 Keep Them Cool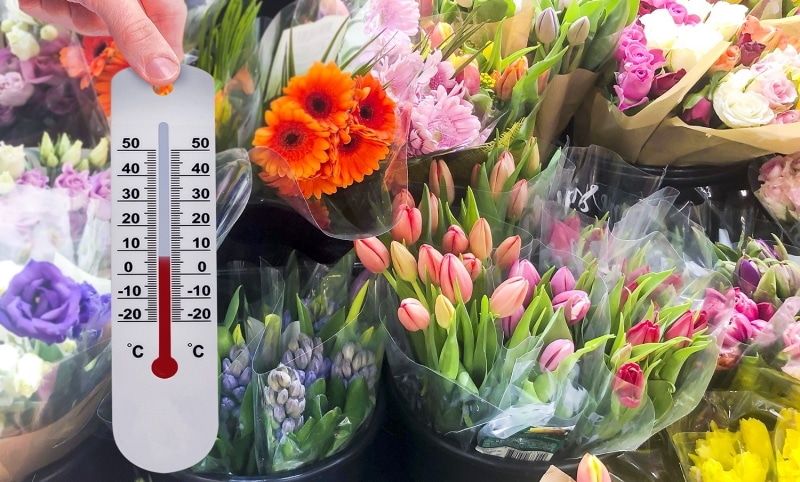 Temperature is a key factor in maintaining flower freshness. Keep them cool to slow their metabolic rate, which reduces the rate of wilting. Keep your vase away from direct sunlight, heaters, and electronics that generate heat. An optimal temperature is around 65 to 72 degrees Fahrenheit during the day and cooler at night.
 Change the Water Regularly
It's crucial to change the water regularly to avoid bacterial and fungal growth. Change the water every two days and clean the vase each time. Don't forget to add flower food after every water change.
 Mist and Hydrate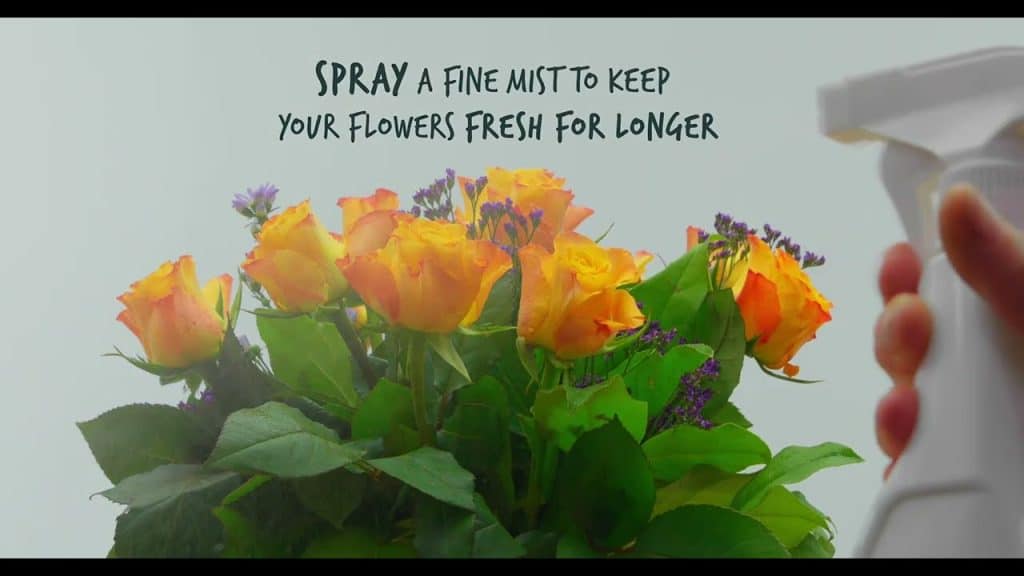 Besides absorbing water from their stems, flowers also absorb moisture through their petals. Use a spray bottle to lightly mist the flowers every day. Make sure to spray the water gently to avoid damaging the petals.
 Avoid Exposure to Ethylene
Flowers produce a gas called ethylene when they start to wilt. Avoid exposure to ethylene as it can speed up the wilting process. Keep your flowers away from ripening fruit, which also releases this gas.
 Remove Wilting Flowers
Finally, remove wilting flowers as soon as possible. Wilting flowers produce ethylene gas, which can cause other flowers in the vase to wilt faster.
Flowers are a delightful addition to any space, and their freshness and vibrancy bring immeasurable joy. By employing these simple yet effective strategies, you can ensure your flowers stay fresh and beautiful for as long as possible.
In Conclusion
The allure and pleasure that flowers bring to our lives are immeasurable. Their beauty, scent, and form add a touch of elegance to any setting. It's no wonder we all wish to prolong their vitality as long as possible. Through the detailed comment on keeping flowers fresh for longer provided above, both cut and potted flowers can offer you their best display for an extended period.
Whether it's making the correct cut, maintaining the freshness of the water, placing the flowers in an ideal location, or tending to potted flowers, each step brings us closer to the goal of enjoying our flowers for longer. The result is a home, office, or garden enriched with beautiful, vibrant flowers.
This guide on how to keep flowers fresh for a long time has covered the basic principles of extending the life of your flowers. By integrating these tips into your flower care routine, the joy, tranquility, and beauty that flowers bring will remain part of your life for much longer than before.
It's a journey that calls for patience, dedication, and love for flowers. Remember, the goal isn't just about preserving their physical appearance but also maintaining the emotional and aesthetic appeal they offer.
Ultimately, the more effort you invest into caring for your flowers, the longer they'll reward you with their radiant blooms. Now that you're equipped with the tips and knowledge on how to keep fresh flowers long, may your flower-care journey be filled with extended vibrancy, freshness, and the delightful aroma that flowers bring.
"Flowers always make people better, happier, and more helpful; they are sunshine, food, and medicine for the soul." – Luther Burbank.